Coffee Coffee Good Smell: Ethiopian Style

As my quest for finding the most stimulating and quality brew continues, I'm going to be sipping on beans from Ethiopia over the next week. In fact, the
can trace its roots all the way to Ethoipia. Many believe that "coffee bean" is an Anglicized version derived from "Kaffa", a forested region full of arabica coffee beans, and "Bun" the Ethiopian word for coffee. So coffee bean could be a poor interpretation of Kaffa Bun. Historians widely accept that Arabica beans were spread throughout the region as a result of the Arab slave trade. During this time, many of the East African slaves chewed the beans for their stimulating effects, and as they were shipped and traded around to other countries so were the coffee beans.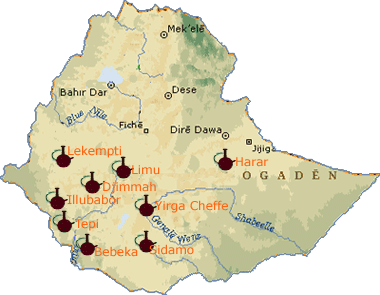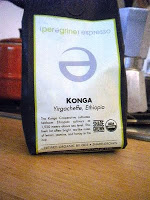 Specifically, these beans come from the Yirgacheffe area of the southern Sidamo region (see map). Until recently, all beans produced from this region were sold under the banner of Sidamo (check out DC's
). Over time, the beans from Yirgacheffe eventually got their due recognition, because the coffee produced here was distinctly different from the others within the region. Konga refers to the co-operative that has 2,191 producer members cultivating 2,979 hectors and producing 1,862 tons of coffee. This coffee lot is certified organic and fair trade. They are also a member of the Yirgacheffe Coffee Farmers Cooperative Union. This co-op has seen a huge spike in membership since
it was "launching a project to support coffee quality improvement by funding the purchase of an eco-friendly coffee washing station . . . This is one component of our [Oxfam's] effort to help cooperatives produce quality coffee and generate additional premium by selling their beans on the international specialty coffee market."
The coffee washing station is a very important detail, because the wet-process produces a very different coffee profile than the original dry-process. Washed Yirgacheffe beans tend to have a cleaner, lighter body and less earthy / wild tastes in the cup compared to their dry-processed kinfolk. Dry-processed beans will result in more body and less acidity. So if you enjoy a fruity and acidic coffee you may want to opt for the wet-process and if you prefer rustic/earthy flavors go for the dry-process. Win-Win in my opinion.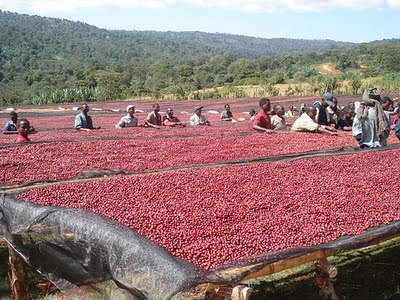 Drying fresh coffee beans
With these beans, my addiction has reached a new level. I can't get enough of Yirgacheffee coffee. The sweet aromatics of flowers and fruits waft through air as I ground the beans. As I took my first sip, a bright fruity flavor filled my mouth and followed with a bold nutty flavor. Lemony notes came out to play in the after taste. These wet-processed beans produced an elegant and rich bodied coffee. Overall, the super-clean citrus and balancing sweetness kept my taste buds busy. A most quaffable coffee to be enjoyed anytime of the day or year!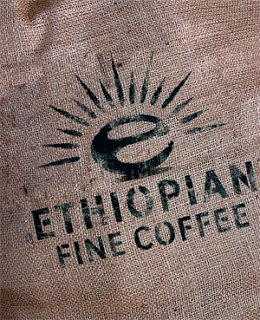 Coffee may not be a basic food crop, such as wheat, but it is arguably one of the most important agricultural products. Valued as high as $90 billion a year, coffee, which is grown in more than 70 countries, is one of the most heavily traded commodities in terms of monetary value. Seventy percent of the world's coffee comes from small, family-owned farms and more than 100 million people are dependent on the crop for their livelihood. For more information watch the documentary Black Gold as it tells the story of Ethiopian coffee farmers fighting for a fair price.