Coffee Coffee Good Smell: Papua New Guinea
Waghi Valley is near the red dot of Goroka.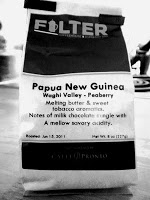 Today's tasty brew was purchased from Filtered Coffee House andEspresso Bar. The stock beans are roasted by Caffe Pronto, a craft roaster out of Annapolis. It's worth mentioning that Pronto's head roaster just won the 2011 U.S. Brewers Cup Championship.
I purchased some beans from Papua New Guinea (PNG) because I remembered loving them in college. Specifically these beans came from the Waghi Valley of the Simbo (or Chimbo) province. The valley is located off the Western Highlands of the Bismarck Range near Mount Wilheim. Fun fact: explored by a German in 1888, the range is named after the German Chancellor Otto von Bismarck, and the four highest peaks are named him and his three children: Ottoberg, Herbertsberg, Mariaberg and Wilhelmsberg.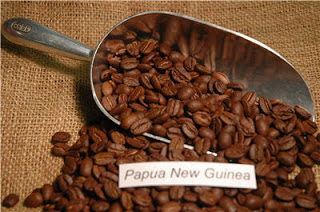 Nearly all beans from PNG are wet-processed, which if you remember from last week means that beans will have a cleaner taste. Immediately after grinding the beans the smokey aromas of tobacco and fruit are present. The light roast produced a nice medium body with a bright acidity. On first drink the earthy tones overwhelmed the palette like you would expect from dry-processed beans, but surprisingly the flavor changes after sitting out for a minute. The second drink had milder earthy tones and was laced with fruity and nutty undertones leaving a sweet and clean finish. I recommend experiencing the unique qualities of PNG in your morning cup. While I think the beans are great, I'm still going to rank the Ethiopian Yirgacheffe higher.
Sipping away at that cup of deliciousness on a beautiful summer day, it's easy to not even think about how those beans arrived here. And why should I care. After all, I'm just a caffeine junkie living from cup to cup. While this is true, I can still be an addict with a moral compass, right? I mean, I'm already a pretentious junkie so I might as well have some moral code guiding me to my next fix.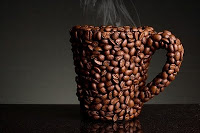 Lately, my compass has been pointing me to beans that produce some of the most flavorful and complex highs. Sorry Folgers fans but you will never truly understand the layers or the vibrancy of coffee. They just don't make interesting coffee. It's like thinking Hersey is excellent chocolate. There is a reason why Folders is so cheap – they usually buy low quality beans with no concept of freshness.
This made me think about the difference between people who purchase superior coffee beans and your average Folgers brand. I bet most people who purchase Folgers couldn't even tell me about the beans. For example, what country, region, town, or village did they came from? How are the farmers treated? Are they paid fair wages? Questions like these never occur to them. In the end, the void between producers and consumers is growing at an unsettling rate.
There is a huge disconnect in America between the production and the consumption of goods. This includes a myriad of stuff like our coffee, vegetables, meat, and eggs. We no longer have that driving sense of connection to the land. There are two points I want to briefly make concerning this growing disconnection.
First, this disconnection may contribute to people's understanding of climate change. It's hard to understand climate change if it's not directly affecting you - particularly your wallet. People who are tied to the land rely on consistent and predictable weather patterns in order to make a living. Sudden changes in weather patterns can have devastating consequences on crop production which hurts the farmer's livelihood. But what many of us don't see is the link of how our livelihoods are tied to the farmers which are tied to the crops which are tied to weather patterns. If the climate become more unpredictable and farmers start losing crops then we, the consumers, don't get our products. I know, as Americans, we have numerous options at the grocery store so if coffee doesn't get produced from Papua New Guinea then we just select coffee from Costa Rica. It's all about the consumer getting what they want.
This brings me to my second point. I'm so happy to see this local/foodie movement sweeping across America, because it's connecting consumers directly with the producers. While you might not have your own garden, buying from local farmers brings you closer to the crops/field and makes you more reliant on weather patterns. Buying straight from the farmer removes the mystery of where or how the produce got from the field to your plate. Plus, farm fresh produce taste better. Don't believe me then head to our local market! My favorite example is eggs. Eat some fresh eggs and you will never again buy those old eggs from the grocery store again (chicken farms are a whole other blog). So support your local farmers and communities by opting for fresh, flavorful produce, and try to wean yourself off that cheap, tasteless stuff found in the grocery store.
Consumers need to start making conscience and informed decisions regarding the stuff they buy. People have told me that farmers markets are too expensive. In some cases, they may be a little bit more expensive, but I have found that they are usually around the same price as the grocery store. Even if they were more expensive, I would much rather pay my local farmer 20 cents/pound more for fresh vine-ripe tomatoes rather than putting more money in the pockets of CEOs who could care less about their products. At least I know farmers work hard to produce their tomatoes and are proud of what they sell. Their livelihoods depend on it! In return, you too should take pride knowing that you purchased a superior product that also supports your local farmers and communities for only a few pennies more.
Taking this a step further, this also includes visiting your local coffee shop. I can guarantee their beans are fresher and better than Folders. While you're there take time to talk to the employees/owner about their variety of beans, the roasting process, and taste different beans until you find one you really like. I encourage and challenge you take your addiction to a new level, because the best part of wakin' up is NOT having Folgers in your cup.
These videos below highlight PNG organic coffee growers and illustrate how labor intensive the process truly is. Take a look and remember the incredibly hard work these natives perform just so we can enjoy that coffee coffee good smell. For more information of Fair Trade and organic coffee from PNG click here.
I apologize for the background music.