Hangover: What Happens in Tunisia Doesn't Stay in Tunisia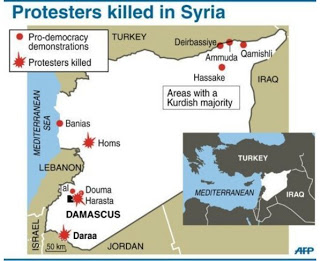 Oh, that's where Syria is located. Reuters reported yesterday that Syrian President Bashar Assad is granting amnesty to "all members of political movements, including the Muslim Brotherhood."
This move comes after nearly ten weeks of fierce conflict between demonstrators and the military that have resulted in an estimated 1,000 civilian deaths and 10,000 arrests. Syria may be out of touch with reality if they keep blaming these uprisings on "armed groups, Islamists and foreign agitators." They need to recognize what these protestors are shouting day after day. It's not a religious movement, but rather a movement of people who are no longer wiling to live under a dictator. Yet, Assad claims that he should remain in power because only he can guarantee stability in an unstable region. But this guarantee is slowly deteriorating as the Arab Spring continues to gain momentum.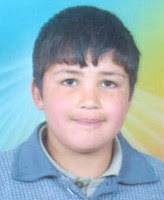 Hamza Ali al-Khateeb
In an effort to stay in power, Assad has now shown that he is willing to give in to some of the demands of the protestors. This willingness is only going to result in more demands until he is overthrown. "Khalaf Ali Khalaf, an organizer of a Syrian opposition conference taking place in Turkey, said the amnesty "comes too late to appease the street, like vague and halfhearted promises for reform that preceded it."
These reforms will not be enough, particularly when they are followed with violent crackdowns. The timing of these reforms also comes in the wake of an 13 year-old boy, Hamza Ali al-Khateeb, being violently tortured to death. The New York Times reported that "the remains themselves testify all too clearly to ghastly torture. Video posted online shows his battered, purple face. His skin is scrawled with cuts, gashes, deep burns and bullet wounds that would probably have injured but not killed. His jaw and kneecaps are shattered, according to an unidentified narrator, and his penis chopped off. " What kind of reason could exist for torturing an 13 year-old boy to death? His death has emerged as the symbol of the Syrian Revolution. It has sent an angry surge of Assad's brutal oppression rippling through the streets as more protestors gather to demand human rights.
I think this call for reforms may also signal that Assad realizes that his legitimacy is buckling under the intensifying pressure from the protestors and the international community. The question he may want to start asking himself is: "Do I want to end up like Ben Ali (Tunisia), Muburak (Egypt), or Saleh (Yemen)?" Either way, it is only a matter of time before his 11-year reign will be toppled.
Watch it unfold: